LINKS UPDATED EVERY THREE DAYS
Note: Please don't read all this information in one go if you are new to this. Take your time and dip in and out over a day or a few days. There's a lot to take in. If you are familiar with how the usual suspects work, then dive in.
***
I've put together a collection of extracts, links and my own commentary to show that the corona virus is NOT a pandemic nor is there any justification for these global lock downs. By the time you have read this post in its entirety in one sitting or over a few days, at the very least you'll have a more discerning view of what the media and global governments are piping into your mind.
Firstly, let's keep in mind an oddity that can be found on the UK government's public hub from March the 19th which the mainstream media has not bothered to report. Listed under "Guidance and information about high consequence infectious diseases and their management in England" it states the following:
https://www.gov.uk/guidance/high-consequence-infectious-diseases-hcid#status-of-co-vid-19

If COVID-19 was not considered a HCID by the 4 nations HCID public health group on March the 19th why are we in lockdown? Why has this piece of information not been circulated and questioned in the media? If minds were changed in just a few days, what was the precise reasons for such a 180 degree turnaround?
Now to some numbers to add to that strange contradiction:
1918 Influenza pandemic:
Global cases: 500 million
Global deaths: over 50 million
Seasonal Flu:
Global cases annually: about 1 billion infections
Global deaths annually: between 291,000 to 646,000
2009 (H1N1) flu pandemic
Global cases: about 60.8 million
Global deaths: over 284,000
Novel coronavirus (COVID-19)
Global Cases: 216, 843
Global deaths: about 9,000
Take a look at the chart from March 9th: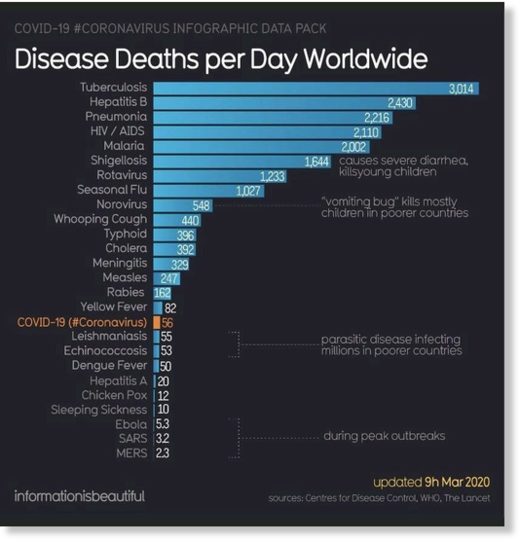 ---
See also: TRUTH: Seasonal FLU TWICE as Deadly as Coronavirus?
Shocking discovery! Scientists learn the flaming obvious: People are recovering from COVID-19 'like they would from the flu'
The numbers just don't add up: Nearly 500,000 went to hospital in 2018-19 flu season but today there are not enough hospital beds for coronavirus patients? 
Empty Hospitals? Where Are All The Coronavirus Patients?
---
America's top immunologist Anthony Fauci MD and his March 26 2020 article in the New England Journal of Medicine 'Covid-19 — Navigating the Uncharted' is quite the eye-opener. Here is the most important snippet:
"If one assumes that the number of asymptomatic or minimally symptomatic cases is several times as high as the number of reported cases, the case fatality rate may be considerably less than 1%. This suggests that the overall clinical consequences of Covid-19 may ultimately be more akin to those of a severe seasonal influenza (which has a case fatality rate of approximately 0.1%) or a pandemic influenza (similar to those in 1957 and 1968) rather than a disease similar to SARS or MERS, which have had case fatality rates of 9 to 10% and 36%, respectively."
That's: 0.1%
We are shutting down nations for a strain of flu that is actually milder than the standard seasonal influenza.
How many more distinguished medical professionals do we need to show us that this is a criminal act of subterfuge? Well, there's quite a lot more evidence from doctors and academics if for some reason this information alone doesn't convince you. So, read on. Meanwhile, take a look at this video care of High Impact Vlogs (6:25) just to burn it into your brain.
---
We know that most of those "cases" are likely not corona virus at all, and if they are, then equally, most people will recover. Which is probably why Italy has admitted that 99% of Those Who Died From Virus Had Other Illnesses and why the testing methodology is a joke. But you generally won't hear about that on the BBC or Sky, just hackneyed attempts to evoke the "war time spirit" amidst the doom and gloom gravitas from journalists who should know better, but prefer their pay cheques to the truth. The panic has now become worse than the pathogen, as Tony Cartalucci rightly explains.
Let's go to someone who is on the "frontline", former surgeon and practicing GP Dr G. Segura who recently posted these observations at cassiopaea.org forum:
Quote:
Here are more details so people can get an idea of how things work.
A National Emergency for coronavirus is declared, which changes a few things. So here's the Primary Health Care scenario:- The entire population is suspect, so no more laboratory tests for coronavirus are done.
– A "contaminated" respiratory circuit is developed at the clinic, and which is separated from the rest of the outpatients and health staff. Anybody coming with a cough, or who is sneezing or any respiratory sign is derived there and kept separated from those who say have wound or any non-related respiratory illness. That way, contagion is not propagated to the entire clinic, but is kept isolated in the respiratory circuit who has his own specific doctor.
-The electronic bureaucracy is set in place so that those with a respiratory illness and need to stay at home because they are suspect of carrying something, can get an international code related with the coronavirus label, so they can get their appropriate sick leave paperwork and appropriate days of isolation. Remember, no tests are to be done by now because the entire population is suspect due to the declaration of the national emergency alert. The person can have a common cold, could be coughing from a seasonal allergy, or the regular flu… Since it's a national emergency, it gets labelled as coronavirus related.
– Create a section in the electronic system where all people with doubts regarding the coronavirus or who have respiratory symptoms can make teleconsultations with doctors. Remember, every time a doctor has to write down anything related to a patient's consultation, he or she has to write an electronic note in their file under a diagnosis. In this case, a new diagnosis has to be created just to write down that you talked with someone in the phone. Because of the national emergency, that label falls under the international codes related with the coronavirus.
What I'm trying to say is that that creates a bunch of coronavirus labelled diagnoses when there was no actual laboratory test done and/or when the respiratory illness could have been anything from the common cold to the typical seasonal flu caused by a non-coronavirus. However, these "coronavirus" labels can now be used for statistical purposes.
As far as hospital care, I don't do that any more (I hope!). However, I worked in the past in European hospitals and know their systems.
Mark said:
I just did my practicum in data science – studied MIMIC hospital admission data. So many patients in hospitals with type 2 diabetes, kidney failure, sepsis, high blood pressure, respiratory failure, heart disease, and many other serious diseases. Some of these patients have been diagnosed with multiple, life-threatening diseases upwards of 20 times per diagnosis. My point is that there is such a thing as '"professional patients" and any one of these people could be diagnosed with COV-19 but nevertheless die of some other life-threatening illness – just sayin'. I am not a medical professional, but I think many that are could speak to this phenomenon. Please correct me if I am wrong.
Exactly, which is what Joe is saying:
Joe said:
"Today we registered 627 new deaths. And I want to remind you that these are people who died WITH Coronavirus, not people who died BECAUSE of Coronavirus."
And therein lies that essence of the problem with the scurrilous, fearmongering BS being proffered about this virus.
Why do you think the speaker stressed that point? Because the vast majority of people who are dying are people with SERIOUS HEALTH CONDITIONS who most likely died due to those serious health conditions, NOT due to Coronavirus.
Why do you think the speaker stressed that point? Because the vast majority of people who are dying are people with SERIOUS HEALTH CONDITIONS who most likely died due to those serious health conditions, NOT due to Coronavirus.
I'll repeat what I've said dozens of times already. Last year in Italy, 43,000 people "died from the flu". Now, why do you think this wasn't shouted from the media rooftops at the time? Why were there no "lock downs" in Italy or elsewhere? Why no "pandemic" declared? Why no "self-isolation"?
Because health authorities around the world KNOW VERY WELL that they cannot attribute those 43,000 deaths (or the other ESTIMATED 600,000 deaths EVERY YEAR around the world) to "the flu" because they know that the large majority of people who "die from the flu" every year are the elderly who have one, or two or three existing chronic illnesses, and no responsible health authority would EVER claim that "the flu killed them".
And yet, this is PRECISELY what health authorities, the media and governments around the world are doing when it comes to coronavirus. WHY?
By the way, on average over the past 10 years, 1,800 people in Italy have died EVERY DAY. There are no statistics that I can find that break that number down, but you can bet that a lot of them occur in winter, and a lot of them are elderly with existing serious health issues.
[M.K.: For more on the pseudoscience coming out of Italy please tune in for the updated blog: A Swiss Doctor on Covid-19]
Exactly!

This is so obvious to me as a practitioner that I find it hard to realize that it needs explaining. It means people really live in a bubble and have no clue as to what real life really looks like in the health care trenches.
Say a 88 years old patient has a fever. He was coughing the days previously. A doctor might find he's on respiratory failure. In his medical history you find that he has chronic kidney failure (as most elderly do), heart failure, chronic obstructive pulmonary disease (COPD), diabetes, high blood pressure, atrial fibrillation and hypothyroidism. This is not unusual on someone this age and that's why a patient like this could be taking 12 medications, including potent blood thinners.
A person such as the above, is likely to be labelled COPD – exacerbation. He or she would be prescribed antibiotics, nebulizations, cortisone, etc. They might test for microbes and find a bacterial infection AND the coronavirus. They will easily find he or she has a urinary tract infection. He or she might have internal bleeding due to the potent blood thinner and its interaction with the antibiotics or any new treatments. If he's not making progress and his organs start to fail all at once, a call to the ICU might be in order. The ICU doctor might not take him into the ICU because he's too old. Nevertheless, the patient might get better. Some don't and die. With so many issues and his age, some will say it was his time to pass away.
European hospitals and clinics are overburdened with patients like this because there are many patients like these. Nevertheless, assistance and a pretty good health care is always provided until the very end. I was often surprised how much Europeans (Italy, Spain) cared about their elderly. Now I got used to it. In other countries, they just don't bother.
As I said before, ICU doctors always run a filter, so they can have beds for those who don't have so many diseases piled in one very old body, which basically signals to them that it's time for this person to pass away. It can happen that health staff get so fixated into treating old patients, that a younger person doesn't have a ICU bed when is needed, i.e. respiratory distress induced by the flu.
In the example above, and for bureaucratic purposes, each disease and infection found will have its own international code for labelling purposes. First cause of death might be cardiopulmonary arrest and/or multiorgan failure. Second diagnosis might be bacterial infection. The coronavirus label will also have its code for statistical purposes. And that's where the numbers are coming from. They come from specific international codes used on doctor's files. It doesn't mean the coronavirus killed the person. As I said in previous posts, some people have so many diseases, that any banal bug could take them out.
As I understand, only patients that are admitted to the hospital (not even patients consulting the ER and who are sent home) are being tested for the coronavirus. That means the mortality will represent this population, not the general population. Only patients that are in a pretty bad shape get admitted.
From the head of the Italian Superior Institute for Health, we gather the following data (note, the video is one of several that contain all the information):
From the medical records examined so far (not much more than 100), the majority of deaths from covid-19 in Italy have been among the very old. The average age is 80.3 years. The majority of deaths had 3 or more associated serious health issues. Two patients who died did not have any of the most common serious health issues, although other issues may become apparent as further investigation takes place. Just two people under 40 years old have died, both 39 years old, one had cancer and the other one had diabetes, obesity and other health problems prior to the infection.
It bears repeating, this season is not very different from the ones before. Actually, I remember 2016 and 2017 as being particularly bad. Many patients that I was called for a home visit back then were already in respiratory failure and all of them had serious underlying health problems and/or where over 85 years old. A guy was just over 40 years old, but he had Down Syndrome and thus, much older than his biological age.
What has happened with this "pandemic"? We went to seeing from 30 to 40 patients per morning (and I have seen over 60 patients in one morning), to seeing 10 stable patients per morning. Those with diabetes, cancer, heart failure, COPD, etc. have to wait out at home, enclosed, until we get the green light that they can continue with their medical visits and follow ups. Too bad if they catch up the cold or anything from the stress this pandemic is engendering. If they end up in the hospital, they will run the coronavirus test, because after all, it's pandemic time. In the time being, they are waiting patiently at home and are very understanding of the system that told them to wait at home because it has to deal with more important issues right now.
Now let's go to an interview with one of the top experts in infectious diseases in the world:
Didier Raoult on the coronavirus: "We must not play with fear"
Interview by Brice Perrier
A world leader in the field of infectious diseases and member of the scientific council dedicated to the coronavirus, Didier Raoult fears the runaway against a coronavirus which he has been inviting for weeks to treat.
Director of the Mediterranean Infection Institute in Marseille, Professor Didier Raoult is one of the most recognized French infectious diseases specialists in the world. He notably joined the multidisciplinary committee of 11 experts formed in March by the executive, assembled to "enlighten public decision in the management of the health situation linked to the coronavirus".
But in this crisis, he believes he is little heard by French health authorities when he is conducting a clinical trial on an old antimalarial drug used in China against Covid-19. Faced with the reality of the epidemic, he recommends not to panic and to detect the patients without waiting for their case to get worse to better treat them.
Marianne: What does the evolution of the coronavirus epidemic inspire in you?
Didier Raoult: I don't let myself get into terror. I do not know how to guess the future and I am not used to believe the most excited who have always been wrong in their modeling. I analyze from day to day, and the evolution, today, it is some 6,000 deaths in the world, including approximately 3,500 in China where the epidemic ends, and 127 in France. I am surprised that we are talking about a very significant cause of mortality, and even a health crisis of the century, when in 2017 the flu and other respiratory infections killed between 14,000 and 20,000 people in France. Maybe the statistics will be very different at the end of the epidemic, but today I do not see a major problem in terms of mortality.
We can only test this mortality if we integrate forms that are not very symptomatic
As a scientist, I am interested in what is done in the world to analyze the solutions associated with the best results. Most countries had not taken the type of decision announced by France, except Italy with not very remarkable success. Germany did not make this choice, neither did South Korea, although it was hit hard. In China, only the Wuhan region has been quarantined, where there have been 2,500 deaths, while the virus has been everywhere else. But mortality has not spread. We are taking measures that have nothing to do with those of countries that have controlled the epidemic. Maybe it's a stroke of genius, or not. It is especially important to reduce things to their proportion, because the interpretation that one gives ends up completely biasing the vision.
Isn't this virus particularly contagious and dangerous?
Dangerousness, I don't know what that means. It depends on the sample we observe. We can look in South Korea where we have done what I advocate from the start, namely to detect and treat, or in the greatest madness carried out in Japan by wedging elderly people on a cruise ship, an experimental model equivalent to putting together twenty mice including four infected to see how many will be contaminated. In both cases, mortality was relatively low, and in Korea it was one of the lowest in the world. In our center in Marseille, the only fatal case arrived after wandering from hospital to hospital. An 89-year-old lady who had been in intensive care for ten days when she was diagnosed. Mortality will obviously be higher for people identified in intensive care than with early detection. It will depend on the quality of care, and we can only test this mortality if we integrate mild symptoms.
In China, suicides of anguished people are reported
We have undoubtedly carried out more tests of the coronavirus than all the other French laboratories combined, with both moderate and severe forms. PACA [Southeastern France] may be spared with just one death, but that would prove that the generalizations are wrong. The ecosystems are different between inner Paris, Wuhan, the PACA region, and there is the unmeasurable risk because chaotic super-contaminators, difficult to understand. We still know now how to measure viral loads and we see that people have quantities of virus a million times greater than others. Logically, this can play a role in contamination, along with other things like behavior. The fact remains that today most of our patients come for respiratory symptoms due to the twenty or so other viruses circulating, or because they met someone who had the coronavirus. They are frantic and want to know if they don't have something that will kill them. Fear is very contagious. In China, suicides of anxious people have been reported. Do not play with fear.
Do you think we're getting carried away dangerously?
Yes. What are the practical details? In 2019, there were 2.6 million deaths worldwide from acute respiratory infection. In your opinion, what influence will the coronavirus have in this? Before significantly modifying these statistics, he will have to kill a lot … And who knows if it will not stop overnight without knowing why like SARS, or if we be will finished with it in March, as is usual with the flu. All this means that I am not particularly moved, and think above all of detecting and treating.
You are conducting a clinical trial of treatment with chloroquine. Do you have any initial results?
I will present them this week, but will not invent anything. Dr. Zhong Nanshan, who successfully managed the Chinese coronavirus epidemic, has shown that chloroquine improves the clinical picture. In Saudi Arabia, the country where there has been the most coronavirus in recent years, Ziad Memish also recommends it as a basic treatment. These two scientists are the best in the world for treating coronaviruses, but in France, perhaps because one is Chinese and the other Arab, we don't listen to them. In South Korea, chloroquine is also in the official protocol, as in Iran.
Coronaviruses come from these countries and those who offer this product know them. I transmit things that others should also transmit if they read, followed what is done abroad and realized that the Chinese have become the largest producers of science in the world. I am only doing a confirmatory study at the level of viral load, the only element really measurable today, except to include thousands of people for analyzes which will arrive in several months, without immediate result.
Viral load, on the other hand, is easy to watch and answers the essential question of transmissibility. Its average duration is 12 to 14 days, and Doctor Zhong has already shown that chloroquine reduces the persistence of the virus to four days. Among all the products tested, it is the most harmless in terms of side effects, the cheapest, and it has at least partially shown its effectiveness. Good news to announce. This will have an effect, including in a population where one can fear dying from something that cannot be treated. I don't understand why we don't use it. It's weird at a time when we keep talking about globalization. In France we're asked to provide results already found elsewhere.
Your statements about chloroquine have been labeled "fake news"
At the end of February, I made a video in which I presented the Chinese results. It was posted and shared on Facebook, which qualified it as "fake news" after advice from a World decoder. The Ministry of Health website then posted that I was spreading fake news, but quickly removed it. And two weeks later, the ministry asked me to enter the scientific council dedicated to the coronavirus …
Are you heard there?
I say what I think, but the council does not translate it into action. It's called scientific advice, but it's political. I'm like an alien there.
[end]
The stance of the authorities is diametrically opposed to Raoult. He repeatedly stated that the coronavirus was just a mild flu, that chloroquine was an effective drug and that testing should be done systematically. He was ignored. Why? As a result, Raoult left the coronavirus scientific council on March 25th, sick of their refusals to apply proper scientific measures and protocols.'
Raoult isn't alone. There are other academics and professionals voicing their concerns. From an article by OffGuardian they present "twelve medical experts whose opinions on the Coronavirus outbreak contradict the official narratives of the MSM, and the memes so prevalent on social media.":
Dr Sucharit Bhakdi is a specialist in microbiology. He was a professor at the Johannes Gutenberg University in Mainz and head of the Institute for Medical Microbiology and Hygiene and one of the most cited research scientists in German history.
What he says:
We are afraid that 1 million infections with the new virus will lead to 30 deaths per day over the next 100 days. But we do not realise that 20, 30, 40 or 100 patients positive for normal coronaviruses are already dying every day.
[The government's anti-COVID19 measures] are grotesque, absurd and very dangerous […] The life expectancy of millions is being shortened. The horrifying impact on the world economy threatens the existence of countless people. The consequences on medical care are profound. Already services to patients in need are reduced, operations cancelled, practices empty, hospital personnel dwindling. All this will impact profoundly on our whole society.
All these measures are leading to self-destruction and collective suicide based on nothing but a spook.
Dr Wolfgang Wodarg is a German physician specialising in Pulmonology, politician and former chairman of the Parliamentary Assembly of the Council of Europe. In 2009 he called for an inquiry into alleged conflicts of interest surrounding the EU response to the Swine Flu pandemic.
What he says:
Politicians are being courted by scientists…scientists who want to be important to get money for their institutions. Scientists who just swim along in the mainstream and want their part of it […] And what is missing right now is a rational way of looking at things.
We should be asking questions like "How did you find out this virus was dangerous?", "How was it before?", "Didn't we have the same thing last year?", "Is it even something new?"
That's missing.
Dr Joel Kettner is professor of Community Health Sciences and Surgery at Manitoba University, former Chief Public Health Officer for Manitoba province and Medical Director of the International Centre for Infectious Diseases.
What he says:
I have never seen anything like this, anything anywhere near like this. I'm not talking about the pandemic, because I've seen 30 of them, one every year. It is called influenza. And other respiratory illness viruses, we don't always know what they are. But I've never seen this reaction, and I'm trying to understand why.
[…]
I worry about the message to the public, about the fear of coming into contact with people, being in the same space as people, shaking their hands, having meetings with people. I worry about many, many consequences related to that.
[…]
In Hubei, in the province of Hubei, where there has been the most cases and deaths by far, the actual number of cases reported is 1 per 1000 people and the actual rate of deaths reported is 1 per 20,000. So maybe that would help to put things into perspective.
Dr John Ioannidis Professor of Medicine, of Health Research and Policy and of Biomedical Data Science, at Stanford University School of Medicine and a Professor of Statistics at Stanford University School of Humanities and Sciences. He is director of the Stanford Prevention Research Center, and co-director of the Meta-Research Innovation Center at Stanford (METRICS).
He is also the editor-in-chief of the European Journal of Clinical Investigation. He was chairman at the Department of Hygiene and Epidemiology, University of Ioannina School of Medicine as well as adjunct professor at Tufts University School of Medicine.
As a physician, scientist and author he has made contributions to evidence-based medicine, epidemiology, data science and clinical research. In addition, he pioneered the field of meta-research. He has shown that much of the published research does not meet good scientific standards of evidence.
What he says:
Patients who have been tested for SARS-CoV-2 are disproportionately those with severe symptoms and bad outcomes. As most health systems have limited testing capacity, selection bias may even worsen in the near future.
The one situation where an entire, closed population was tested was the Diamond Princess cruise ship and its quarantine passengers. The case fatality rate there was 1.0%, but this was a largely elderly population, in which the death rate from Covid-19 is much higher.
[…]
Could the Covid-19 case fatality rate be that low? No, some say, pointing to the high rate in elderly people. However, even some so-called mild or common-cold-type coronaviruses that have been known for decades can have case fatality rates as high as 8% when they infect elderly people in nursing homes.
[…]
If we had not known about a new virus out there, and had not checked individuals with PCR tests, the number of total deaths due to "influenza-like illness" would not seem unusual this year. At most, we might have casually noted that flu this season seems to be a bit worse than average.
– "A fiasco in the making? As the coronavirus pandemic takes hold, we are making decisions without reliable data", Stat News, 17th March 2020
The original article: A fiasco in the making? As the coronavirus pandemic takes hold, we are making decisions without reliable data
Dr Yoram Lass is an Israeli physician, politician and former Director General of the Health Ministry. He also worked as Associate Dean of the Tel Aviv University Medical School and during the 1980s presented the science-based television show Tatzpit.
What he says:
Italy is known for its enormous morbidity in respiratory problems, more than three times any other European country. In the US about 40,000 people die in a regular flu season and so far 40-50 people have died of the coronavirus, most of them in a nursing home in Kirkland, Washington.
[…]
In every country, more people die from regular flu compared with those who die from the coronavirus.
[…]
…there is a very good example that we all forget: the swine flu in 2009. That was a virus that reached the world from Mexico and until today there is no vaccination against it. But what? At that time there was no Facebook or there maybe was but it was still in its infancy. The coronavirus, in contrast, is a virus with public relations.
Whoever thinks that governments end viruses is wrong.
– Interview in Globes, March 22nd 2020
Dr Pietro Vernazza is a Swiss physician specialising Infectious Diseases at the Cantonal Hospital St. Gallen and Professor of Health Policy.
What he says:
We have reliable figures from Italy and a work by epidemiologists, which has been published in the renowned science journal Science, which examined the spread in China. This makes it clear that around 85 percent of all infections have occurred without anyone noticing the infection. 90 percent of the deceased patients are verifiably over 70 years old, 50 percent over 80 years.
[…]
In Italy, one in ten people diagnosed die, according to the findings of the Science publication, that is statistically one of every 1,000 people infected. Each individual case is tragic, but often – similar to the flu season – it affects people who are at the end of their lives.
[…]
If we close the schools, we will prevent the children from quickly becoming immune.
[…]
We should better integrate the scientific facts into the political decisions.
– Interview in St. Galler Tagblatt, 22nd March 2020
Frank Ulrich Montgomery is German radiologist, former President of the German Medical Association and Deputy Chairman of the World Medical Association.
What he says:
I'm not a fan of lockdown. Anyone who imposes something like this must also say when and how to pick it up again. Since we have to assume that the virus will be with us for a long time, I wonder when we will return to normal? You can't keep schools and daycare centers closed until the end of the year. Because it will take at least that long until we have a vaccine. Italy has imposed a lockdown and has the opposite effect. They quickly reached their capacity limits, but did not slow down the virus spread within the lockdown.
– Interview in General Anzeiger, 18th March 2020
Prof. Hendrik Streeck is a German HIV researcher, epidemiologist and clinical trialist. He is professor of virology, and the director of the Institute of Virology and HIV Research, at Bonn University.
What he says:
The new pathogen is not that dangerous, it is even less dangerous than Sars-1. The special thing is that Sars-CoV-2 replicates in the upper throat area and is therefore much more infectious because the virus jumps from throat to throat, so to speak. But that is also an advantage: Because Sars-1 replicates in the deep lungs, it is not so infectious, but it definitely gets on the lungs, which makes it more dangerous.
[…]
You also have to take into account that the Sars-CoV-2 deaths in Germany were exclusively old people. In Heinsberg, for example, a 78-year-old man with previous illnesses died of heart failure, and that without Sars-2 lung involvement. Since he was infected, he naturally appears in the Covid 19 statistics. But the question is whether he would not have died anyway, even without Sars-2.
– Interview in Frankfurter Allgemeine, 16th March 2020
Dr Yanis Roussel et. al. – A team of researchers from the Institut Hospitalo-universitaire Méditerranée Infection, Marseille and the Institut de Recherche pour le Développement, Assistance Publique-Hôpitaux de Marseille, conducting a peer-reviewed study on Coronavirus mortality for the government of France under the 'Investments for the Future' programme.
What they say:
The problem of SARS-CoV-2 is probably overestimated, as 2.6 million people die of respiratory infections each year compared with less than 4000 deaths for SARS-CoV-2 at the time of writing.
[…]
This study compared the mortality rate of SARS-CoV-2 in OECD countries (1.3%) with the mortality rate of common coronaviruses identified in AP-HM patients (0.8%) from 1 January 2013 to 2 March 2020. Chi-squared test was performed, and the P-value was 0.11 (not significant).
[…]
…it should be noted that systematic studies of other coronaviruses (but not yet for SARS-CoV-2) have found that the percentage of asymptomatic carriers is equal to or even higher than the percentage of symptomatic patients. The same data for SARS-CoV-2 may soon be available, which will further reduce the relative risk associated with this specific pathology.
– "SARS-CoV-2: fear versus data", International Journal of Antimicrobial Agents, 19th March 2020
Dr. David Katz is an American physician and founding director of the Yale University Prevention Research Center
What he says:
I am deeply concerned that the social, economic and public health consequences of this near-total meltdown of normal life — schools and businesses closed, gatherings banned — will be long-lasting and calamitous, possibly graver than the direct toll of the virus itself. The stock market will bounce back in time, but many businesses never will. The unemployment, impoverishment and despair likely to result will be public health scourges of the first order.
– "Is Our Fight Against Coronavirus Worse Than the Disease?", New York Times 20th March 2020
Michael T. Osterholm is regents professor and director of the Center for Infectious Disease Research and Policy at the University of Minnesota.
What he says:
Consider the effect of shutting down offices, schools, transportation systems, restaurants, hotels, stores, theaters, concert halls, sporting events and other venues indefinitely and leaving all of their workers unemployed and on the public dole. The likely result would be not just a depression but a complete economic breakdown, with countless permanently lost jobs, long before a vaccine is ready or natural immunity takes hold.
[…]
[T]he best alternative will probably entail letting those at low risk for serious disease continue to work, keep business and manufacturing operating, and "run" society, while at the same time advising higher-risk individuals to protect themselves through physical distancing and ramping up our health-care capacity as aggressively as possible. With this battle plan, we could gradually build up immunity without destroying the financial structure on which our lives are based.
– "Facing covid-19 reality: A national lockdown is no cure", Washington Post 21st March 2020
Dr Peter Goetzsche is Professor of Clinical Research Design and Analysis at the University of Copenhagen and founder of the Cochrane Medical Collaboration. He has written several books on corruption in the field of medicine and the power of big pharmaceutical companies.
What he says:
Our main problem is that no one will ever get in trouble for measures that are too draconian. They will only get in trouble if they do too little. So, our politicians and those working with public health do much more than they should do.
No such draconian measures were applied during the 2009 influenza pandemic, and they obviously cannot be applied every winter, which is all year round, as it is always winter somewhere. We cannot close down the whole world permanently.
Should it turn out that the epidemic wanes before long, there will be a queue of people wanting to take credit for this. And we can be damned sure draconian measures will be applied again next time. But remember the joke about tigers. "Why do you blow the horn?" "To keep the tigers away." "But there are no tigers here." "There you see!"
– "Corona: an epidemic of mass panic", blog post on Deadly Medicines 21st March 2020
Want more? Well, there are now 10 MORE Experts Criticising the Coronavirus Panic
---
Biongineering, China, present-future predictions
By over-inflating the number of coronavirus deaths and initiating indoctrination of "social isolation", "social distancing" "quarantine shaming" and other such jargon, a consortium of interests hope to implement drastic control measures. Once enforced, they will be nigh on impossible to reverse. (This will include the exclusion of a systematic test that would reveal that 99.9% of the statistics given for the dead were not even carrying the coronavirus).
This is not a pandemic nor will it ever be, unless we use the same unquestioning logic that prompts us to bulk-buy on supermarket toilet paper, clear out the meat counter or to believe that the government has a sudden miraculous money supply to keep some small businesses afloat while shouldering a £2 trillion debt.
Oh that's right……They're printing money again out of thin air just as they did prior to the last recession in order to push through self-serving socio-economic measures that they couldn't possibly do without a convenient "crisis."
As former White House Chief of Staff for Obama once said: "You never let a serious crisis go to waste. … it's an opportunity to do things you think you could not do before." And he wasn't talking about the milk of human kindness but milking people's minds to focus on the chaos, a diversionary tactic that relies on fear and a misplaced trust in the authorities. Meanwhile, they stripped our assets, broke our social infrastructure, bailed out the banks and got us to pay for it all!
It was only a few weeks ago that the media was fretting about the 10,000 deaths from flu and there were no lock-downs and collective hissy fits then.
So, what changed?
New distractions always need to be cooked up when you are seeking to implement major socio-economic re-structuring. Taking advantage of China's outbreak certainly fits the bill – all sorts of cool things can be undertaken under the cover of "pandemic" as we will discover when this blows, over. Keep in mind that there is a lot of anti-China propaganda out there that is part of the new Cold War 2.0 scenario to blame China, Russia and Iran for pretty much everything. Don't believe it. This strain of flu appears to have been the result of bioengineering strains that were hanging around for the last 2 years, the mutated forms of which were then shipped off to China care of factions within US military intelligence. If you think that our beloved Anglo-American crazy scientists haven't been messing around with biowarfare then you need to review. This is sexy stuff for these guys and have been peering into their petri-dishes to create a deadly flu virus for quite some time with US bio-labs dotted around the world.
Here are just a few links for your edification:
Scientists resume efforts to create deadly flu virus, with US government's blessing
China's Coronavirus: A Shocking Update. Did The Virus Originate in the US?
COVID-19: Further Evidence that the Virus Originated in the US
Coronavirus Did NOT Originate in China: Lombardy Doctors Have Been Dealing With 'Strange Pneumonia' Since at Least NOVEMBER
Death of Dr Frank Plummer and the Bio-weapon Corona Virus
Creator Of US BioWeapons Act Says Coronavirus Is Biological Warfare Weapon
"Dr. Francis Boyle, who drafted the Biological Weapons Act has given a detailed statement admitting that the 2019 Wuhan Coronavirus is an offensive Biological Warfare Weapon and that the World Health Organization (WHO) already knows about it." See also: Prof. Francis Boyle Update on Coronavirus Bioweapon
But it's lethality may not lie in the fact that it causes death but what it does to the DNA…. It seems this experimentation has resulted in something not so serious for us, but quite threatening for our illustrious leaders which is the real reason for the lockdowns. (More on this later.)
New World (Dis)order
Meantime, here are some of the changes that have taken place –  in particular for the US – and what may be coming down the pipeline from One World Press:
* De-Facto Martial Law…
There's no other way to describe both the "recommended" and mandatory quarantines that many in the world are experiencing than to call them what they are, a state of de-facto martial law, which isn't being formally declared in order to not provoke any more panic than there already is.
* ...Is The "New Normal"
Now that de-facto martial law of a seemingly indefinite period has been accepted by the people (whether willingly or begrudgingly), it'll probably become the "new normal" and be implemented countless times in the future, be it as an "overabundance of caution" in the event of another outbreak or under any other pretext.
* Social Media Censorship Will Intensify
"Big Brother" is already here, but he's going to become a bigger bully than ever before by intensifying his censorship of people's social media posts on the basis that they're "socially irresponsible" (e.g. questioning the seriousness of this disease), after which the "politically incorrect" net will widen to encompass other topics too.
* Travel Will Never Be The Same Again
Domestic and international travel will never be the same again, with internal restrictions on movement likely becoming commonplace and most foreign guests being required to self-quarantine for a period of time except in special circumstances, thus all but killing the global tourism industry.
* Border Control Will Become More Robust
Gone are the days of so-called "open borders" where anyone can freely move between jurisdictions at will (whether legally or otherwise), with more stringent controls being put into place to protect the local population from outsiders (including their own compatriots from elsewhere in the country).
* Mandatory Vaccines Are Coming
For whatever one thinks about vaccines, there's probably no way to stop them from becoming mandatory after the COVID-19 pandemic, with it being predicted that people will have to prove that they've been vaccinated in order to do anything at all such as study, work, travel, and receive government benefits.
* Remote Learning & Working Will Increase
With so many people stuck at home and unable to leave except to purchase essential goods in most cases, it's predictable that remote learning and working (the latter which will of course be for those whose jobs allow them to do so) will pick up in the coming future as society gets used to this way of doing things.
* 5G Is Inevitable
The massive surge of online traffic from folks who are learning, working, or simply entertaining themselves online will necessitate the rapid roll-out of 5G technology despite what some people suspect are its serious health concerns.
* Society Depends On Just A Few Jobs To Function
The "new normal" of de-facto martial law has made many people realize that society really just depends on a few jobs in order to continue functioning at the bare minimum, with these being techies, grocery store and pharmacy employees, bank clerks, healthcare professionals, food service workers, farmers, and truckers.
* Nationalization Might Be Imminent
For better or for worse, governments across the world might go on a nationalization spree in order to take control of what they regard as "essential industries" (though whether some of them truly are or not is another story), which could lead to the informal imposition of either socialist or fascist economic models.
* Universal Basic Income

Given the scale and scope of the global economic collapse that was catalyzed by the world's uncoordinated response to COVID-19, it's foreseeable that governments will unveil what's been described as a "universal basic income" in order to ensure that their people can continue to at least purchase basic goods and services.
* Mandatory Medical Training In Exchange For Government Benefits
Medical training is arguably more important than military service nowadays, so the state will probably make it mandatory in schools from here on out and for anyone who wants to receive government benefits, thereby enabling the government to draft them in the future whenever there's a dearth of healthcare professionals.
* Say Goodbye To Cash
The cashless society is coming, whether justified by the (real, false, or exaggerated) fear that lethal viruses can be spread by paper currency or as the government's preferred method of dispersing its "universal basic income", meaning that the authorities can cut folks off from their funds at any time that they want to.
See also: COVID-19 and Economic Duress: A Pretext to Enhance Police State Powers? Suspension of Constitutional Rights During COVID-19?
And yet Sweden has resisted the lockdowns and the country doesn't appear to have gone extinct….Hmmmm
---
So, what now?
Now, some or all of the above may materialize. But you can be sure that the life we managed to pretend was "business as usual" is finished. The question now becomes: how can we meet the unknown with courage and pragmatism so that we can ride out the changes without being sucked down the plug-hole of chaos?
If you are one of those who is sceptical of knee-jerk conspiratorial thinking where shadows are seen under every stone, then well done. That's never a healthy thing. It is equally unhealthy however to place your trust in the sanctity of the State and its agencies and pretend they have your best interests at heart. This is perhaps even more foolish because it is predicated on the idea that those in power at this time – a relatively small minority – care two hoots about you. They do not. Until you disavow yourself from that belief then your mind will be easy prey for their propaganda. No need for cynicism either, just a reappraisal of the nature of the deep state and how they view the global rabble of ordinary people.
It then becomes a matter of discerning patterns and information which repeat again and again until they become too compelling to disregard. One has to keep the possibility open that our "Official Culture" has been programmed to accept a consensus reality that bares very little relationship to objective truth. Once you learn to recognise those veiled patterns of pathological thinking in language, ideology and strategy you can begin to predict what will happen based on that understanding of the recent and more distant past.
Once you realise that you're smelling a very stinky rat, then many further questions might emerge, two of which may be a) Why are the Powers that Be doing such a thing? And b) how is it even possible?
Well, at it's simplest, it's all about money. At its most complex, it is concerned with Establishment factions warring between themselves for a slice of a future pie that is still being baked. It is about their respective ideologies clashing over the management of the global population.
In this sense, it's all about control. A concentration of inter-generational psychopaths at the top of a social pile are quite happy to do almost anything to retain their status. The Hegelian Dialectic (thesis) versus (anti-thesis) equals (synthesis) is a favourite of these people. We can also describe it more simply as "problem-reaction-solution". You create the problem, wait for the mass reaction and then step in to provide a "solution" which then delivers the outcome you had ready all along. Biowarfare and terrorism are the tools of such thinking.
As to how it is possible to pull the wool over so many eyes and float pseudoscience and blatent lies with apparent ease…Well, much of this blog discusses that subject so feel free to peruse. The short version is that we are in living through a period of history where modern society has been subject to about 70 years of social engineering that has targeted our minds and bodies so that we are susceptible to bullshit instead of truth. That's the very basic upshot.
As Czech theoretical physicist and former assistant professor at Harvard University Dr Luboš Motl states in a recent article:
"The Covid-19 crisis – specifically, the reaction to it – demonstrates that people have grown bored, detached, and easily impressionable by things that have nothing to do with the roots of their society. We are all – or too many of us – fin de siècle Romans now.
A large number of Westerners are happy to accept the suicidal shutting down of their economies to try to halt a virus that predominantly causes old and sick people to die just a few weeks or months before they would have anyway. Just as they enthusiastically endorse proclamations such as that there are 46 sexes, not two; that the flatulence of a cow must be reduced to save a polar bear; that millions of migrants from the Third World must be invited to Europe and assumed to be neurosurgeons; and so on.
The widespread opinion that everything, including economies, must be sacrificed to beat coronavirus is a revival of medieval witch hunts; the sacrifice seems more important than finding an effective method to deal with the problem."
This is the same irrationality that sees nearly 2 in 5 Americans ditching Corona BEER over virus concerns.
Keeping in mind what Dr Segura and other experts wrote there are plenty of reasons why most of us are so quick to believe it is a pandemic and why global governments stand to benefit from that compliance. This even extends to some twat on the BBC's Panorama giving us precise lessons in how to wash our hands. As James Corbett mentions, this is indoctrination that speaks down to us as if we are primary school children in order to drum compliance into our heads. Perhaps some of us are. After all, we have been immersed in a juvenile rendering of reality for many decades in various forms. Clearly, they believe that we are dumbed down enough to accept it. Well, are we as stupid as they think?
Well, ask yourself…Are you?
I hope you'll read at least some of the articles in the links at the end of this post and many more that will no doubt emerge to rightfully question the shameful media and equally corrupt World Health Organisation which has spearheaded this drive.
Meantime, while disengaging from the hysteria might prove impossible for some, it's very important not to let the media hypnotise you. This is like a social contagion in itself. To be swept up in unthinking reactions force fed into the mass mind will likely prove more fatal than any strain of flu. Fear-based stress lowers the immune system and messes with your mind. With economic strife around the corner we need to be fit and healthy to cope. That means building our community bonds and supporting each other. It does not mean buying into the media fear-mongering, fake numbers and at best, sloppy reporting. Nor does it mean accepting – yet again – another major distraction from the eternal tinkering and consequent damage that the government and the banks are doing to the economic architecture, effectively pushing it toward another global recession from which we wil not recover, at least, not for a long while.
Many more details will emerge to confirm that our political elite and their handlers are not attempting these lock-downs to protect us. Their general ideology is in favour of reducing the Earth's numbers as any Establishment think-tank report will tell you, so they are hardly likely to be reacting in this fashion to "save lives" … Unless there was something that is threatening to their long-term power base.
What could that be?
Here is my summary drawn from information in the below links with some crucial dots connected from the cassiopaea transcripts:
One Possible Scenario…
There is a common misconception that the reasons for the measures being imposed on Western nations is to prevent them getting infected all at once, or to avoid them infecting those who are weak or elderly as per the official mainstream narrative – They talk of "flattening the curve." This is false. There are several complexes of agendas in play, as well conflicts.
There are two factors here: the economic and the political both of which are being used to increase the power of the authorities. As they see it, this is an opportunity to "reset" the economy so that they can put everything back together again when all the chaos is over. So the idea is to burst the bubble now and then to regrow the markets and make a lot of profit meantime. In other words, this is part of an economic crash that is engineered but may become uncontrollable. Thus, it is the height of wishful thinking. To reinforce and centralise their power requires a global lock-down and the imposition of restrictions and rules under the cover of protection thereby extending their ability to control people as they go about their dangerous tinkering with an already flat-lining economy.
However, the good news is – this will backfire due to the gradual exposure of the truth of the situation.
Although this hoax was partially planned, the virus outbreak in China represented an opportunity by the West's Establishment to initiate their plans ahead of schedule via the World Health Organisation (WHO) which is a tool of a minority of corrupt insiders. The aim is to enforce a new "capitalist" "eco-smart" system defined by much greater socio-economic amid centralised controls but they did not envisage it playing out in this way. Again, this is opportunistic in terms of time-scale though it seems the use of biowarfare was certainly part of the toolkit to be used at some juncture, depending on the response, or lack thereof.
The virus did not appear first in China. There were experiments at Fort Detrick regarding the creation of a vaccine that would make humans more controllable. (They have enough detail to know that a virus can change DNA. They use viruses to go in and replace very specific segments of DNA to cure diseases. If there are certain sets of genes that make people less controllable, the engineered virus is programmed to go in and alter/erase them. For example, there are personality characteristics that people have that make them open to experience. If one is open to experience, creative, you don't follow the crowd, or you like coffee etc. these are all inputted into dense data sets from a variety of sources.)
This vaccine had unexpected effects and in some cases did the opposite of what was intended. The strain escaped into the population and further mutated. Indeed, it was carried to China by US soldiers. China soon knew the type and origin and launched a massive campaign to control the situation. This was seen by Western powers as a good model to follow with additional add-on factors. In the meantime, further mutations have occurred, resulting in two major strains.
This minority of government, corporate and "Deep State" insiders need to stop the spread of that which they "created" since they are actually producing constructive results in some of the psycho-genetic makeup of the population. For some, this bioengineered, mutated strain will bring out the negative behaviour, for others it will enhance more positive dynamics. This is a rather delicious irony I believe. The more you try to control the less likely one's objectives will be met – and even result in highly unexpected effects.
Naturally, at this point at least, this is impossible to prove but it makes the most sense. Why else would the global Elite be so desperately keen to lock everything down when we know it is just like any other flu – except for this caveat of mutation? If it was in their best interests and a decimation of global populations was in progress (or even the annual flu count) you would hear nothing. This reaction is due to the fact it is not in THEIR best interests and indeed, is a major threat to their positions of power should enough people have become infected. This is their worst possible scenario and now they are doing damage control.
The fact that so many leaders (Angela Merkel, Boris Johnson and other ministers have been "infected" is merely another ruse to persuade the public to knuckle down and get with the programme. i.e. (Look even the Prime Minister has it! Gosh! Then I really should take note and stay indoors!) Very transparent.
Many political leaders were sold a story that this virus got out and that it would do things that would cause lots of problems if strategies weren't implemented now. They were told it would unleash uncontrollable social chaos if they didn't get with the picture. What precisely they were told and by whom we can only speculate. Not everyone is in on the truth and there are turf wars taking place between certain Establishment groups..
So, the solution is to create a global vaccination programme which they hope will get their overall agenda for control back on track. A vaccination record that is linked to Wifi SMART infrastructure, finances, social media, health records etc. and the current 5G apparatus is being erected around us  while our attention is distracted. (You'll also want to take a cold, hard look at the role your smart phone plays in all this….) These vaccines and the architecture built around them would be designed to prevent certain signals from being able to activate certain genes, thus limiting the risk of broadening perceptions and thus raising awareness. These effects appear to be the byproducts of this bioengineered strain.
So, mandatory/forced vaccinations are inevitable. (And what an amazing coincidence that a Coronavirus vaccine was conveniently announced even before pandemic was in in full throttle with the WHO standing as its Big Pharma figurehead. Oh, and the pharmaceutical companies are set to make yet another big fat profit on top of an already medically corrupt system of care.
None of the latter is speculation, evidence of which can be found if people have due diligence and begin to research, which is why networking and sharing good quality information is so important.
---
I know, this is a lot to take in for many..
What IS undeniably apparent if you wish to further summarise the bare bones of the situation is that:
a) this is NOT a pandemic
b) the upper levels of governments are lying to us and
c) there is no reason at all to lock down nations.
If that is all you take away from this, that is enough. More questions will ensue and you'll have further choices to make. But at least they will be conscious choices.
Meantime, while the cause and lethality of the virus is fabricated there are signs of a deep willingness to pull together from many people in the face of a perceived crisis. It's just a shame that such altrusim is largely a response to manipulation. On the other side of the fence, there are those who are so fearful and ignorant that they fit the profile of authoritarian followers. These are the new "Covid-Stasi" who easily slip into snitching on their neighbours who dare to break the "rules," or the bureaucrats and police who level fines on the public who do not comply.
Police, military and the general public need to wake up to the fact they are being had.
Finally, I suggest you and your communities do NOT take whatever vaccination programme is coming down the pipeline as an antidote to this problem because it will be nothing of the kind. If you have no choice then there are de-tox and healing protocols available at the cassiopaea thread at the bottom of this page.
I hope this at least makes you stop and think. Even if you think the above summary is nonsense – just look at the science and start from there.
If this information strikes a chord in you as a rational human being seeking to resist lies, then please pass this link on to others.
And remember: DONT PANIC!
---
Links
Check out some of these links below and decide where you are in the propaganda war.